According to a popular crypto analyst and trader, the native tokens of two smart contract-enabled blockchains will rise in value.
The crypto analyst pseudonymously known as Smart Contracter tells his 201,800 Twitter followers that the native tokens of blockchain platforms Harmony (ONE) and Fantom (FTM) are aiming to reach new record highs.
Smart Contracter also says that the native tokens of layer-1 blockchains are in a bullish phase. Layer-1 blockchains are standalone blockchain protocols such as Bitcoin (BTC), Ethereum (ETH), Harmony and Fantom.
"Looks like ONE and FTM both gunning for an all-time high, what dip.
The layer-1 season is alive and well."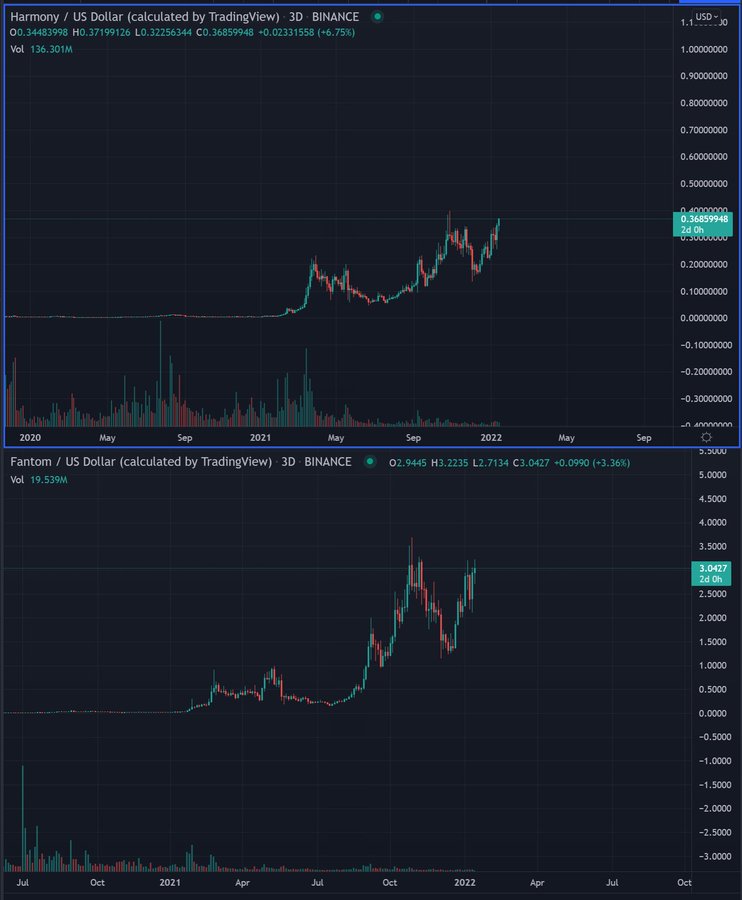 The popular crypto analyst and trader adds that in Fantom's decentralized finance (DeFi) ecosystem, the total value locked could be hours away from surpassing the total value locked on the Solana (SOL) DeFi ecosystem.
"FTM total value locked probably only 24hrs away from flipping SOL total value locked at this point."

According to Smart Contracter, the top crypto assets in the Fantom ecosystem such as Spookyswap (BOO) have corrected and are now sitting at attractive entry points.
"Some decent pullbacks on FTM ecosystem top coins. If you were waiting for pullbacks, time to shoot your shot in my opinion.
GEIST, TAROT, SPIRIT, BOO, SCREAM."
The popular crypto analyst also says that nearly all the native tokens of layer-1 blockchains have recorded better returns than SOL since November 17th of 2021.
"Almost every single layer-1 outperformed SOL from this day [November 17th, 2021]."